Time to wrap up – here are today's main stories:
Goodnight, GW
13:14
P&O Ferries owner DP World loses status as partner in Solent freeport
The Dubai-based owner of P&O Ferries has lost its status as a formal partner in one of the government's biggest freeport projects, after widespread public anger over the firing without notice of 800 workers last month.
Ministers have confirmed that DP World, the Emirati logistics giant behind P&O, no longer had a central role as a "partner" in the Solent freeport after the resignation of its UK commercial director from the scheme's board last week.
It comes after questions in the Lords from the Green party peer Natalie Bennett who had asked the government what plans were being put in place to withdraw any freeport contracts as a result of the sackings.
Speaking for the government, Stephen Greenhalgh, a levelling up minister, responded on Wednesday night saying:
"On 28 March 2022 DP World resigned from the Solent freeport board and are no longer a partner in the freeport consortium."
Here's the full story:
13:01
European market close
Europe's stock markets ended the day lower.
Worries about slowing growth, the impact of the Ukraine war, and the prospect of a series of US interest rate rises in 2022 all weighed on shares.
In London, the FTSE 100 index dropped 36 points, or 0.5%, to 7552 point. Oil giant Shell lost 2.3% after reporting that exiting Russia would mean a writedown of up to $5bn.
Shell also told shareholders that group cashflow in Q1 is expected to be adversely affected to the tune of around $7bn, partly due to margin calls caused by higher prices on forward delivery contracts.
Insurance group Aviva (-4.9%) and housebuilder Barratt (-4.2%) led the fallers after goin ex-dividend today. Other construction firms were also lower, as the sector sets aside more money to fix fire safety problems at properties built over the last 30 years.
European stocks also dipped, with Germany's DAX and France's CAC also down around 0.5%.
Michael Hewson of CMC Markets sums up the day:
European markets have chopped between positive and negative territory today, as investors continue to absorb the messaging from last nights Fed minutes, and the outlined plans to reduce the size of the balance sheet, by $95bn a month, and a potential start date in May.

Peace talks between Russia and Ukraine don't appear to be going anywhere in the short term with the Kremlin complaining that the US sending weapons to Ukraine wasn't helping the talks to progress. Another view might be that increasing evidence of Russian troops murdering Ukrainian civilians might have something to do with the lack of progress.
More default developments…Sovcombank has become the first Russian bank to say it will miss a payment on foreign-currency bonds due to sanctions imposed on the nation since its invasion of Ukraine.
Bloomberg explains:
Russia's ninth-largest lender was due to make a $12 million interest payment on notes maturing in 2030 on Thursday, according to data compiled by Bloomberg, but the bank said in a statement that it would stop payments on four notes issued by an Irish vehicle, Sovcom Capital DAC.

Sovcombank, which grew in recent years after buying the local financial units of General Electric Co., India's ICICI Bank and Turkey's Garanti Bank AS, was among banks targeted by sanctions in the early days of the war. It's been cut off from SWIFT — a bank messaging system — and its assets abroad have been frozen.
Policymakers at the European Central Bank believe the eurozone faces a period of 'slowflation' due to the Ukraine war – less severe than full-blown stagflation.
The minutes of their meeting last month, released today, showed that the ECB saw rising prices and slowing growth:
While the Russian invasion of Ukraine had increased uncertainty surrounding the macroeconomic outlook, related risks to the inflation outlook were seen as largely one-sided, with experience suggesting that wars tended to be inflationary, often fuelled by increased fiscal spending in conjunction with a loose monetary policy stance.

While the war would likely dent economic growth in the short term, annual growth was projected to remain positive even in the severe scenario, pointing to "slowflation" rather than stagflation.
Belarus has followed Russia and begun paying foreign debts in local currencies, after sanctions over its role in the invasion of Ukraine hampered payments.
The government has been driven to using Belarusian rubles to service loans owed to the World Bank, the European Bank for Reconstruction and Development and the Nordic Investment Bank, it said in a statement on its official Telegram channel.

The announcement follows President Alexander Lukashenko's decree in March authorizing the use of the local currency for debt payments.

"This is a forced measure," the council of ministers said in the statement. "Belarus' ability to settle its debts in dollars and euros with western creditors is limited because of the sanctions."
On Monday, Russia was unable to pay around $649m to holders of its debt, after the US Treasury banned US banks from processing the payments, due to the freeze on Russia's foreign exchange reserves.
Paying in roubles, rather than dollars, on Russia's dollar-denominated debt could be classed as a default, if the situation isn't rectified within 30 days.
US central bank policymaker James Bullard has called for a rapid series of interest rate rises, to get US inflation under control.
Bullard, president of the St. Louis Federal Reserve, says the Fed's short term policy rate should reach 3.5% later this year.
The rate is currently 0.5%, so that would imply a 50 basis point hike at each of the Fed's remaining meetings, a very sharp tightning of monetary policy.
Reuters has the details:
"I would like to get there in the second half of this year…We have to move," to get ahead of inflation running at triple the Fed's 2% target, Bullard said. "We are talking about bigger moves than we have made in a long time so there would be management that has to be done."

The pace described is slightly quicker than the one Bullard offered at the March Fed meeting, which saw the federal funds rate reaching as high as 3.25% by year's end.
The minutes of the Fed's latest meeting, released last night, showed that policymakers were ready to start shrinking their balance sheet from May, unwinding the pandemic stimulus programme.
10:47
UK energy security plan criticised as missed chance to reduce bills
Rob Davies
Boris Johnson's energy security plan has been dismissed as a missed opportunity to bring down bills rapidly, over its failure to fund energy efficiency upgrades or back onshore windfarms in the face of Tory backbench opposition.
While the government's plans set targets for long-term expansion of nuclear, offshore wind and solar capacity, it stopped short of doing so for onshore wind. The proposals also lacked a major intervention to help households lower their gas usage by improving insulation standards.
The shadow business and energy secretary, Ed Miliband, said Johnson had been "held to ransom" by backbench opposition to windfarms.
Energy experts and environmental groups labelled the plan "inadequate", warning it would do little to address the urgent need to tackle sky-high bills and reduce dependence on gas imports, including from Russia.
The strategy did set ambitious targets for offshore wind generation, with the government raising its target from 40 to 50 gigawatts by 2030.
But Johnson did not back a wind industry proposal to double onshore capacity to 30GW over the same period.
10:29
P&O Ferries crisis contributes to travel chaos at Dover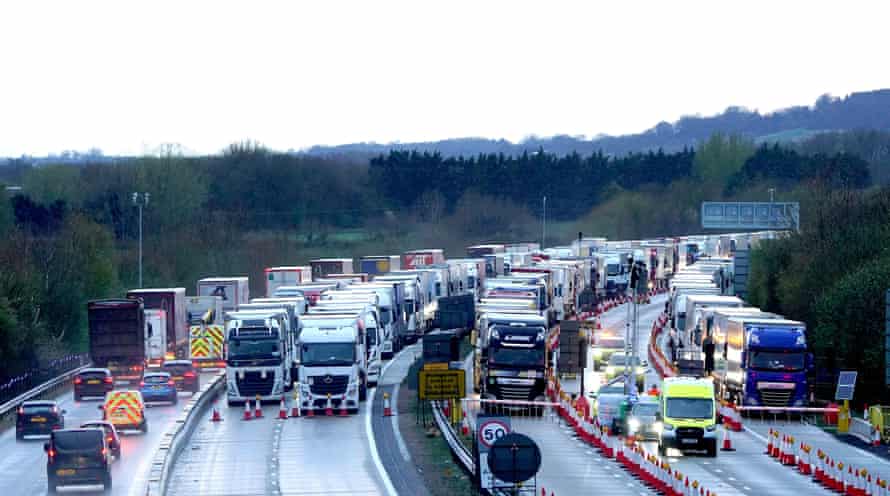 Traffic on major routes in Kent have been brought to a standstill again today due to delays in Channel crossings.
P&O's shock sacking of 800 workers last month continues to cause disruption, as passengers numbers rise during the Easter getaway.
PA Media has the details:
A 23-mile coastbound stretch of the M20 was closed from junction eight (Maidstone) to junction 11 (Westenhanger) to store thousands of lorries heading for the Port of Dover or Eurotunnel as part of Operation Brock.
This is causing chaos on surrounding local roads.
The A20 Roundhill Tunnel is closed under the Dover TAP scheme to prevent HGVs jumping the queue.
Delays to Channel crossings are being driven by the suspension of P&O Ferries sailings after the operator sacked nearly 800 seafarers without notice last month.
This is putting more strain on other ferry operators amid increased demand as many families travel overseas for Easter holidays.
DFDS said P&O Ferries customers will be unable to transfer their bookings onto its Dover-Calais sailings between Friday and Sunday because of a lack of capacity.
Operation Brock involves using a moveable barrier to create a contraflow system enabling lorries to queue and other traffic to keep moving in both directions.
However, the system has been overwhelmed, with Kent hit by long queues every day since April 1 when poor weather also disrupted crossings.
The Port of Dover said in a statement it handled 30,000 departing passengers last weekend, which was a three-fold increase on the total during the corresponding weekend in 2021.
It added it is "expecting another busy weekend" as it urged customers not to arrive before their booked sailing.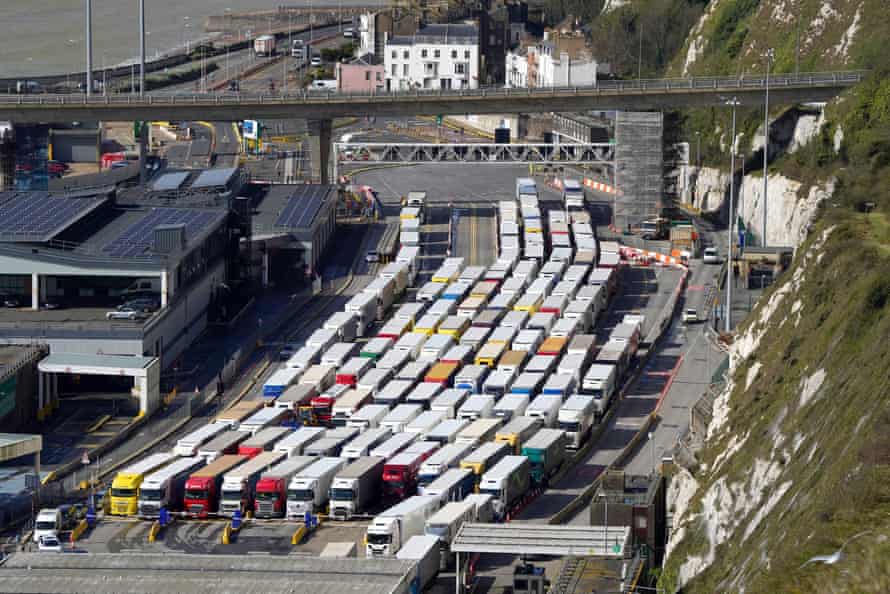 Trevor Bartlett, leader of Dover District Council, said the port will be "under severe pressure throughout the busy Easter getaway" as he warned residents to prepare for "some disruption again this weekend".
He said he has "made it clear" to Kent Police, Kent County Council and the Kent Resilience Forum – a partnership of local organisations and agencies – that "we will not tolerate another weekend of gridlock in Dover".
The Conservative councillor went on: "For too long, local residents and businesses have had to endure disruption and, quite frankly, deserve better.
"We share your concerns about the impact of gridlock on local businesses and access to vital health and social care for our most vulnerable residents.
"Many are rightly worried about how the emergency services would be able to respond to a major incident when all routes into the town are effectively cut off."
Ashford MP Damien Green called for changes to be made to Operation Brock.
He told KentOnline:
"What we need is to make Brock work.

"We have established that up until now it does work, even in times of stress, because the motorway is kept open.

"Once you close the motorway it makes it impossible, so the Kent Resilience Forum needs to look at what changes need to happen so Brock can cope with what is a very unusual situation, where more than half of the freight-carrying capacity at Dover has disappeared in one time."
P&O Ferries announced on Wednesday that it is preparing to resume cross-Channel sailings.
A spokesman said:
"P&O is looking forward to welcoming back vital services and we expect to have two of our vessels ready to sail on the Dover-Calais route by next week, subject to regulatory sign-off, namely both the Pride of Kent and Spirit of Britain between Dover-Calais."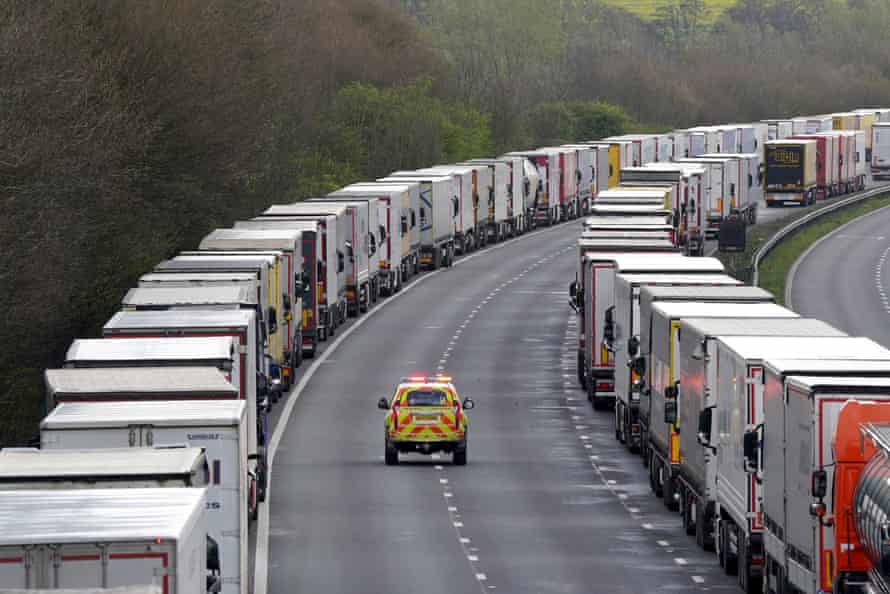 Here's Robert Frick, corporate economist at Navy Federal Credit Union, on the tumble in US jobless claims to a 50+ year low:
The labor market is so tight that layoffs hit a new historical low. In only one other week since records began, in November of 1968, were fewer layoffs recorded. But "tight" depends on perspective, because while employers struggle to hire and retain workers, workers have the confidence to change jobs at a near-record pace, switching most often for higher pay or better working conditions.

And for the economy, this means more months of adding around a half million jobs, and that we will hit the pre-pandemic high of Americans employed this summer.
09:48
US jobless claims tumble to lowest since 1968
The number of Americans signing on for unemployment support has dropped to its lowest level in over half a century.
The weekly jobless claims total fell to 166,000 last week, the lowest level since 1968.
That suggests that the US jobs market remained solid last week, despite inflationary pressures and worries over the Ukraine war, with firms holding onto staff.
That's below forecasts of around 200,000 new layoffs, and 5,000 fewer 'initial claims' than the 171,000 a week before.
Continuing claims (people receiving at least their second week of unemployment support) rose to 1.52m, from 1.506m [this data lags the initial claims by a week].